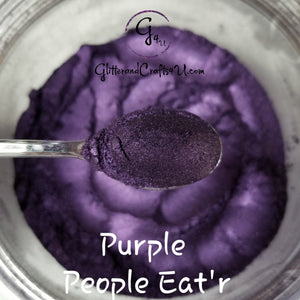 Chameleon Pigment Powders - Purple People Eat'r
Chameleon Micas are a Color Shift Mica that with a change of angles & lighting give you a Most Awesome Look!
Purple People Eat'r – Red, Purple & Blue.
These Chameleon Powders are designed to be used over a BLACK background.  This is extremely important to achieve the ultimate effect!  This is a cosmetic grade mica.
Epoxy/Resin Technique – Prep your object with Black paint, let fully dry then add your Chameleon Powder to your epoxy and apply.
Soaps – Mix Chameleon Powder with a Black Mica Powder
Makeup & Eye Shadow – follow your instructions for turning into a pressed powder & apply over a Black base for a gorgeous effect
 Safe for All Applications
Ingredients: mica, iron oxide, silica
μm (particle size): 10-60 micro
This is a Cosmetic grade superfine Mica powder, known primarily for the use in cosmetics, mica powders are a common natural and chemical coloring ingredient. It is a non-toxic mineral that gives off a shimmery and metallic & sometimes sparkly appearance. 
With the numerous amounts of colors available it is perfect for creating your own paints, nail polish, soaps, bath bombs, shimmers, body lotions, eye makeup, nail polishes and more! Perfect for Halloween makeup for the kids, for use in Arts and Crafts, PC Candles, and more! The uses are never ending!
 SOLD IN JARS 
Actual colors may vary. This is due to the fact that every computer monitor or screen has a different capability to display colors. We try to edit our photos to show the pigments as life-like as possible, but please understand the actual color may vary slightly from your screen.
---
We Also Recommend